There are many different types of locks, some specialized for certain materials or scenarios, most of them are common door locks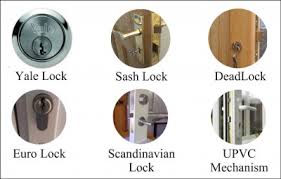 designed to secure the borders of your door frames and enclose entrances as best as possible. Making the right decision of what lock you need is vital to get the most security potential out of your setting, look to a locksmith to get a professional opinion on what would be the best fit for your specific home or business!
Mechanical Versus Electromechanical.
Locks can break into two categories being mechanical and electromechanical, nowadays with the progress in technology a electromechanical lock has been adopted for many high security needs, while a mechanical locks stays the security standard to keep any home or business safe.
Electromechanical locks on the other hand, require electricity in order to provide protection for what is on the other side of the door. Whilst a key is still required, the method by which the unlocking process takes place is electronic. So a physical key no longer becomes enough, this makes it harder for unwanted entry.
Electric locks are a higher security preferred lock. Electric locks have useful perks for business, while physical mechanical locks are preferred for the common household or small business, because of their affordability convenience, and great security. Many commercial buildings and big business prefer electrical locks, they can be monitored and kept track of, this allows for easier monitoring of the business.
Locksmith West Hollywood  (323) 306-5221