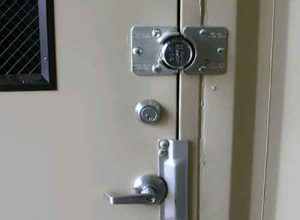 Feeling safe and secure is by far the most important element when it comes to your home, and that feeling is weaved around the doorstep. With the passage of time and technological advancements, we're seeing a considerable change in something as simple as locking a door.
Modern-day door locks are feature-rich in many aspects, but do they offer the needed security, basic purpose of this existence?
Let's analyze how secure are modern security locks. Only a handful of door locks dominate the US market, and just two companies, i.e., Kwikset or Schlage occupy over 90 percent share of all residential locks. Despite being younger than Schlage, Kwikset holds a much bigger share, possibly because of a significantly cheaper price tag.
Having a look at doors reveal that 4 out of 5 homes in the US choose has standard Kwikset lock installed at their front door, so it's quite natural to analyze this particular lock. The next popular brands include Kwikset SmartKey, Standard Schlage lock, and Defiant Deadbolt. The last in the list is has gained quite some share in the market in recent years.
1. How safe are these Popular Traditional Locks
There are 5 ways burglars used to compromise a standard deadbolt i.e., Picking, Raking, Bumping, Drilling, and using Pick Gun.
To test the resilience of each of the four locks, our security experts applied all the compromised methods in a testing environment. The results showed that these locks provide weak to moderate level security and can be compromised using one method or the other.
2. The Case of Smart Locks (Keypad, Bluetooth & Biometric)
With technological advancements in home security, keypad locks are becoming increasingly common, as well as biometric and Bluetooth locks.
These locks often give a false impression of being secure than the traditional mechanical pin-tumbler locks. Having a closer look reveals that all these smart locks are also equipped with a traditional keyhole and a key. The traditional key is used to bypass the electronic system in case of a failure or an exhausted battery. Instead of making the lock more secure, it adds a vulnerability that can be compromised and manipulated.
Although keypad or biometric locks provide relatively better security, cylinder remains the lock's weakest link remains the cylinder. In fact, if the cylinder of any lock is easy to compromise, the lock is not secure at all.
3. Benefits of High-Security Locks
High-security locks are mechanical locks that are 100 percent secure. Due to the modifications made in their internal systems, not even the most skilled locksmith can compromise them in as much time as burglars have.
High-security locks rake, pick, and bump proof. Drilling is the only option to compromise these locks, but that could take hours because of the materials used in the locks.
Making a duplicate key is not easy as the key can only be copied from a special card that comes packaged with the lock.
People often think that having a high-security lock on their front doors will make robbers think they are trying to secure something precious, motivating them to break in. However, data suggests; otherwise, burglars tend to look for the easiest homes to break into. A high-security lock will most likely make them walk away and look for a different house.
4. West Hollywood Locksmith
If you are curious about the security of your home and looking to install a high-security lock, look no further. West Hollywood Locksmith goes beyond the call of duty when it comes to installing a home security system that given you much needed peace of mind.
We particularly offer state of the art and cutting-edge security solutions that ensure your protection and safety from all sorts of criminal elements.