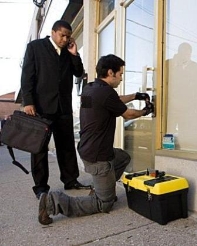 Eviction locksmith service
Eviction can often be tricky and sometimes can require a locksmith. Some tenants are not responsive and are uncooperative, it is best to have full control over the situation by hiring a locksmith and having control over your property. Even if the vacancy is filled quickly, take precaution that your previous tenant does not try and act against your property, get the locks rekeyed or changed, and save yourself the stress of thinking about such things.
In the case that the tenant is not complying with your terms and is still living in the property, locksmiths can rekey the locks so they no longer have access. This is an extreme case and should be tackled with caution. Every tenant has rights so be aware that there are laws provided about this type of eviction that differs from state to state.
If, however, you determine that an eviction locksmith service is your best option, then give us a call. We guarantee your property will be one-hundred percent safe from any unwanted entry.
Locksmith West Hollywood  (323) 306-5221