Have you misplaced your key? If you have you've probably contemplated changing your locks. You might be thinking someone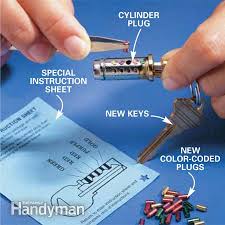 could have stolen your key, or if someone happens to find it they could get into your house! Don't resort to always completely changing your locks, we can rekey the internals to make sure old lost keys will never work again, and only the new set we give you will be the set for your locks.
Our professional locksmiths can rekey your locks for a fraction of the cost of installing an entirely new lock system. With the same result, we will keep your original locks on the doors, we change the internal tumblers and pins of the lock to match a brand new key and reject old keys.
Rekeying often is not very well known, customers often thinking changing the locks is what they need however, rekeying fills the same purpose with a more convenient method. The process of rekeying a lock involves changing the interior tumblers inside the lock to a different size which will no longer accept the original key set. We interchange the internals of your lock, keep your original exterior shell of the lock, just changing the mechanism. This is ideal to not only spend less money, but also if you have stylized locks or certain locks you prefer to keep. If you have been burglarized and are unconfident in your locks, that calls for a change in locks, otherwise rekeying fulfills the purpose of changing accessibility to your locks and nullifying old keys entry. You will receive a new set of keys from the locksmith and the rekeying process will eliminate any worry that old keys that are floating around for this lock will be used to compromise your safety or security.
Rekeying is also used in creating the master systems. Certain locks can be keyed to more than one pattern, in a master systems case this is usually two patterns. Therefore rekeying allows for two keys to work for this lock, one of which would be the regular key used for the lock, and the other being the master key. Contact our locksmith to provide any of these services by professional licensed technicians.
Locksmith West Hollywood  (323) 306-5221